Yesterday over four million people, on seven continents, in over 150 countries, took to the streets for a youth-led global climate strike. Next week world leaders are meeting at the United Nations headquarters for a big climate summit, and the strike is one way activists hope to put pressure on countries to make big environmental commitments.
I went to the climate strike in D.C., where we marched down Constitution Avenue to the Capitol building and called on Congress to take this crisis seriously.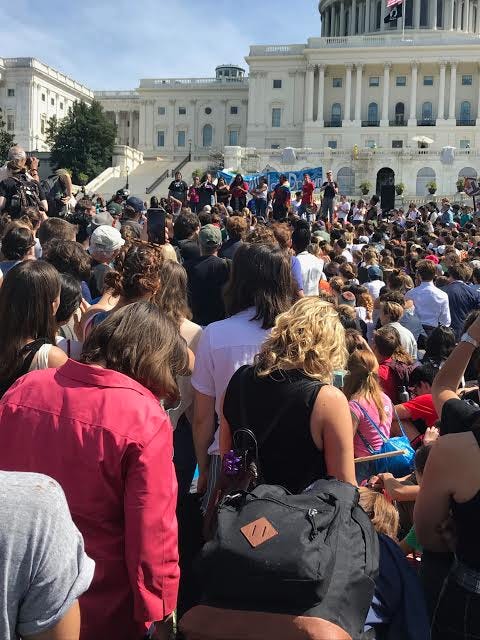 There was a lot of sign love (rightly) for Greta Thunberg.
Another remarkable thing that's been going on this week is an effort by over 250 news outlets to focus a week of dedicated coverage to the climate crisis, in advance of the UN summit. (Columbia Journalism Review and The Nation helped spearhead this, and you can read more about the #CoveringClimateNow project here.)

My contribution is this story on carbon-capture technology for The Intercept. Carbon-capture, at first blush, can sound like dark science fiction: A suite of technologies to capture carbon dioxide from industrial processes and power generation before it's released into the atmosphere, and to suck out CO2 from the air that's already been emitted. And backed by oil and gas companies to boot.

Groups on the environmental left have long opposed carbon-capture technology, seeing it as yet another misguided subsidy for the fossil fuel industry, and something that would also detract from moving the planet away from harmful energy sources once and for all. One issue critics are running into, though, is the growing consensus by the International Panel on Climate Change (largely understood as the world's science referee) that we're not going to meet global climate targets by midcentury if we don't remove some of the carbon that's already been released into the atmosphere. The climate jargon for this is "negative emissions." There are debates going on right now over how much negative emissions could come from "natural carbon-capture" strategies like planting trees, and each approach brings different limits and tradeoffs.

Aside from that, another political issue for skeptics and opponents is that some allies the environmental left will need to pass any sort of Green New Deal — like organized labor — broadly support advancing the technology. While U.S. Senator Bernie Sanders's recently released climate plan includes outright opposition to carbon-capture tech, calling it a "false solution", some groups on the left have been warming to the idea under certain conditions, and I look at those dynamics.

You can read The Intercept story here (and the rest of The Intercept's #CoveringClimateNow coverage compiled here.)

***

Besides the climate strike, this has also been a major week for labor strikes. Yesterday 6,500 nurses across four states launched a one-day strike calling for improved working conditions and higher pay. Also going on right now is the largest strike against a US business since the financial crisis. It began on Monday, as autoworkers with the UAW went on strike against General Motors, an auto company which earned $11.8 billion in profit in 2018. The last time the UAW workers went on strike was in 2007, and their labor stoppage lasted two days. We're on day 6.

I wrote about the UAW strike earlier this week for VICE, and focused specifically on the fights workers are having with GM over proposed healthcare cuts. You can read some history about how we got employer-sponsored health insurance in the first place, and how in the 1980s some workers went on strike for nearly three years when their employer asked them to pay more in healthcare costs. Read the VICE story here.

—-

For those in DC, I will make one more plug for a panel I'm moderating Tuesday night at the Black Cat on public school transparency. We've got five great speakers joining me, and I think it should really interesting. Register here.

Thanks for reading and supporting this! And if you're not currently a paying subscriber and inclined to help me do more of this work, please do consider subscribing. Have a great weekend.