I am proud to share my new investigation published this week in Washington City Paper. I've written about charter schools on and off for the past five years, and over that time I've realized that the charter sector in Washington D.C. commands a lot more power than charter sectors in other cities and states. I didn't really understand why, I just knew in terms of resources, and degree of legal independence, it looked pretty different compared to some other cities I had reported on.
The more local stories I did here, the more I grew curious to understand why D.C. is so different. I knew enough to know that there were some influential groups working in the advocacy space, but the details were fuzzy. In February I submitted a proposal to the Fund for Investigative Journalism, asking for their support to help me report this story out. The Fund for Investigative Journalism is a 50-year-old organization that awards grants to freelance writers and nonprofits. In the past half-century, they've awarded 1,443 grants for reporting projects and in March I was very happy to learn I'd be one of them.

One cool thing about the opportunity was they asked if I wanted to be paired with a journalism mentor. I said yes, and they asked in what area I would like mentorship, and I said if is anyone available with expertise in lobbying that would be very helpful. FIJ paired me with James Grimaldi, a Wall Street Journal investigative reporter who won the Pulitzer Prize in 2006 for his reporting on the Jack Abramoff lobbying scandal. I felt really grateful lucky to have his guidance as I went through this project.

What makes something "investigative reporting" vs. reporting? I think sometimes the term can be unnecessarily intimidating, or off-putting, to otherwise capable journalists who could definitely do great investigations if given the time and support.

If I were to try and explain it — I would say an investigation is a pursuit you can take when you have a lot more time than is typical. You have more space to chase down different leads, to try out different methods of uncovering information, coax sources into leaking information. Normally that time just isn't available at all, especially for a freelancer. With this story, I had the time to file a lot of different public records requests (and then fight for those to be complied with), interview a lot of different people, hunt down obscure records, read books, and do the kind archival research that normally journalists just can't justify undertaking. Investigative journalism also tends to come with some greater risk. You are more likely to be investigating the claims made by people in power, digging around to see how well they stand up. Verifying information is a staple of regular reporting too, of course, but the means to corroborate can be different, simply because they're more constrained.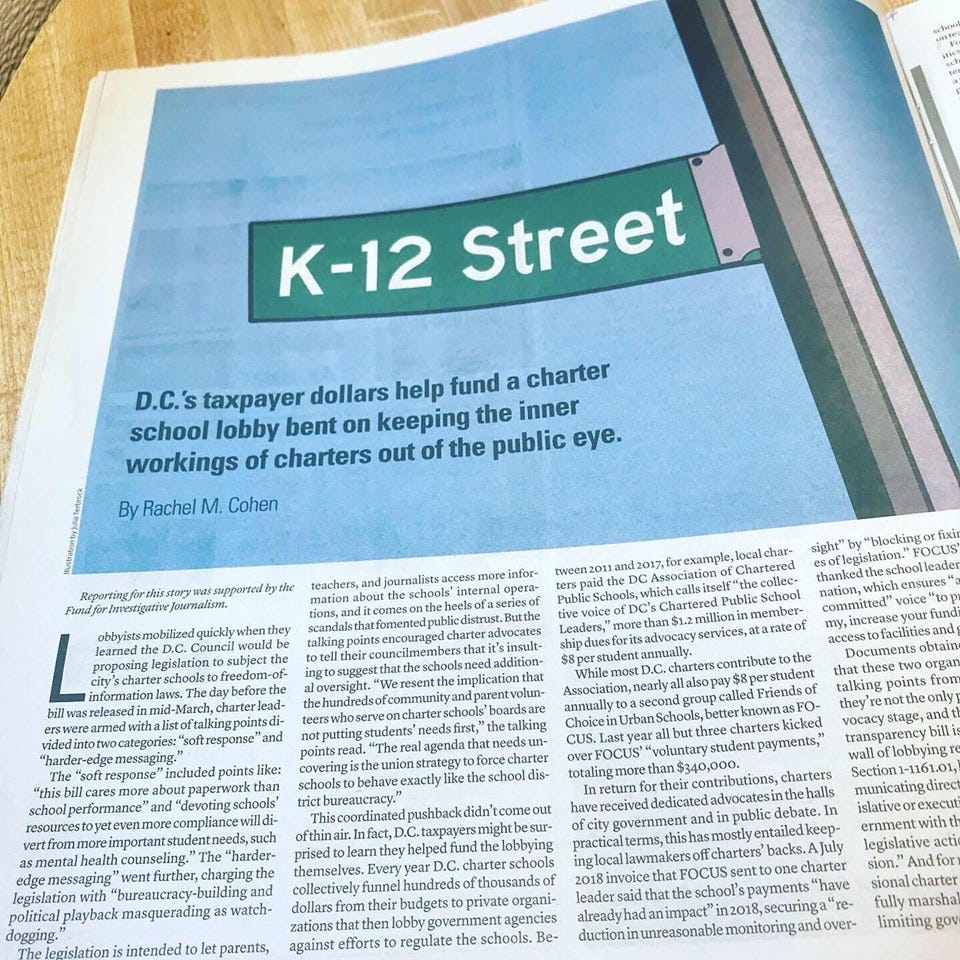 Read it here: How Charter Schools Won D.C. Politics

If you're in the DC area: you can grab a free print copy around town for the next week. Also if you're in DC, mark your calendars for 6 PM on September 24th! I will be moderating a panel at the Black Cat on school transparency, hosted by City Paper. Event info here.