A $50 million antique shipment labeled "FARBERGE" quietly sent to Panama
And why clearing criminal records matters even more during the pandemic

Good morning! Today at The Intercept I have a new story with Ryan Grim looking at some shipments sent in 2018 from Russia to a company in Panama owned by Russian billionaire Viktor Vekselberg. The exports, according to maritime shipping records, are classified as antiques more than 100 years old. Most intriguing, one of the items has a listed value of nearly $47 million, with a designated trade mark that translates to "FARBERGE RUSSIA." In 2004, Vekselberg bought nine Imperial Farbergé eggs and opened a museum back in Russia to display them.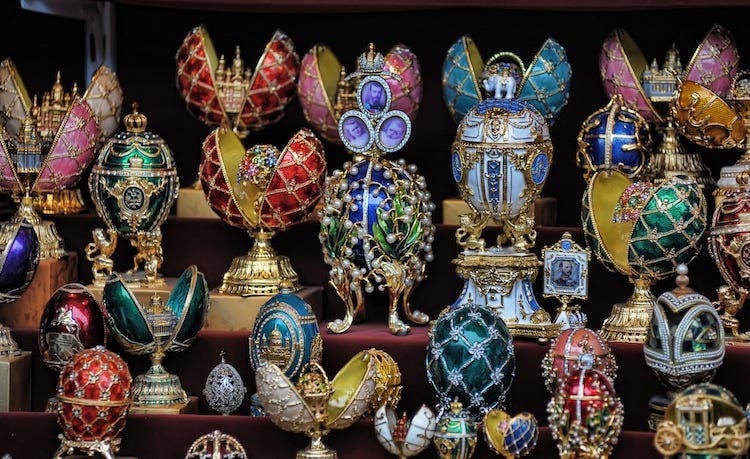 Vekselberg, one of the richest and most powerful men in Russia, was also one of the individuals to be sanctioned by the U.S government in 2018 as punishment to Moscow. He has American grandchildren, and it was reported earlier by Bloomberg that Vekselberg worried those sanctions might impede his grandchildren from inheriting some of his wealth. Three weeks after getting sanctions, according to these shipping documents, the high-priced antiquities left for Panama. 🤔🤔🤔
You can read the full story here.

*****

Also this week I have a new story at The Appeal, a criminal justice-focused news site, looking at a new and powerful movement to automatically clear criminal records for millions of people. The bipartisan movement — known "Clean Slate" — really took off in 2018. The thinking is that while right now millions of people are eligible to petition their state to have their records cleared, over 90 percent of those eligible don't do so, for a host of reasons ranging from cost and time to legal complexity and a lack of information. But having a criminal record, researchers have found, makes it much harder to find housing and jobs, and even if you do get a job, you're likely to have significant wage penalties or be the first to be fired when times get tough. One University of Michigan study from 2019 found those who did petition to have their records cleared saw their wages jump by 20 percent within one year. Oh and nearly half of all U.S. children today have at least one parent with a criminal record.

The idea behind Clean Slate bills is the states could automatically clear all who are eligible to have their records cleared, instead of making people go through the petition process themselves. There's evidence this would not only increase economic opportunity for those with records, but save states money in the long-run.
Pennsylvania passed the first Clean Slate bill in 2018, and it took effect in June 2019. Over the last 10 months, an astonishing 34 million records have been sealed, for more than a million people. (The bill isn't perfect: it doesn't include any past felonies, and as my friend Sarah told me, because she volunteered doing expungement work this year in Philadelphia, many people were still ineligible because they had unpaid fines.)
Since then though, Utah and California have passed similar bills, and Michigan's bill passed the House in November. Advocates expect the Michigan senate to take up the legislation soon, and if Michigan's does pass, it would be the first to automatically clear some non-violent felonies, too.
My story looks at Washington State, where there was a Clean Slate campaign this year and a bill that passed both houses of the legislature. But in April Democratic Gov. Jay Inslee vetoed it, citing the coronavirus. I looked at how this important issue intersects with the economic and public health crisis we're facing. You can read that here.

Thank you for reading, and I hope you're all doing okay.